Good morning WHMS followers! Make sure you follow the new West Hempstead Secondary School on Twitter: @wh_secondary and on Instagram: wh_secondary for the latest news and updates. This feed will go quiet as of 6/30/22. Have a great summer! @whufsdrams #RamResolve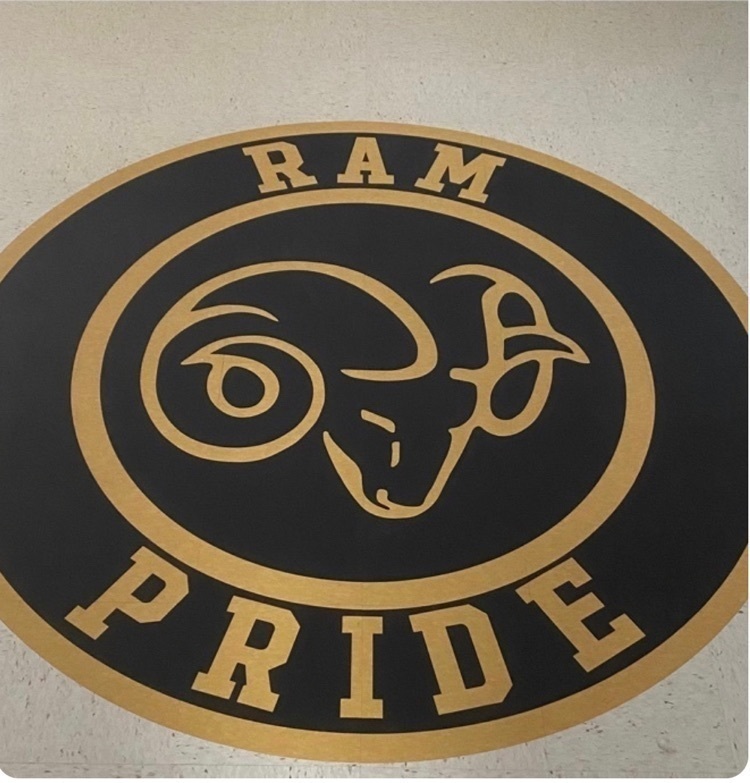 Only one Friday left for #RamPride awards. Who will be our final winners?! Here are this week's recipients who Thought Interdependently, Remained Open to Continuous Learning, & Took Responsible Risks. Way to go! @whufsdrams @smurrayLB #RamResolve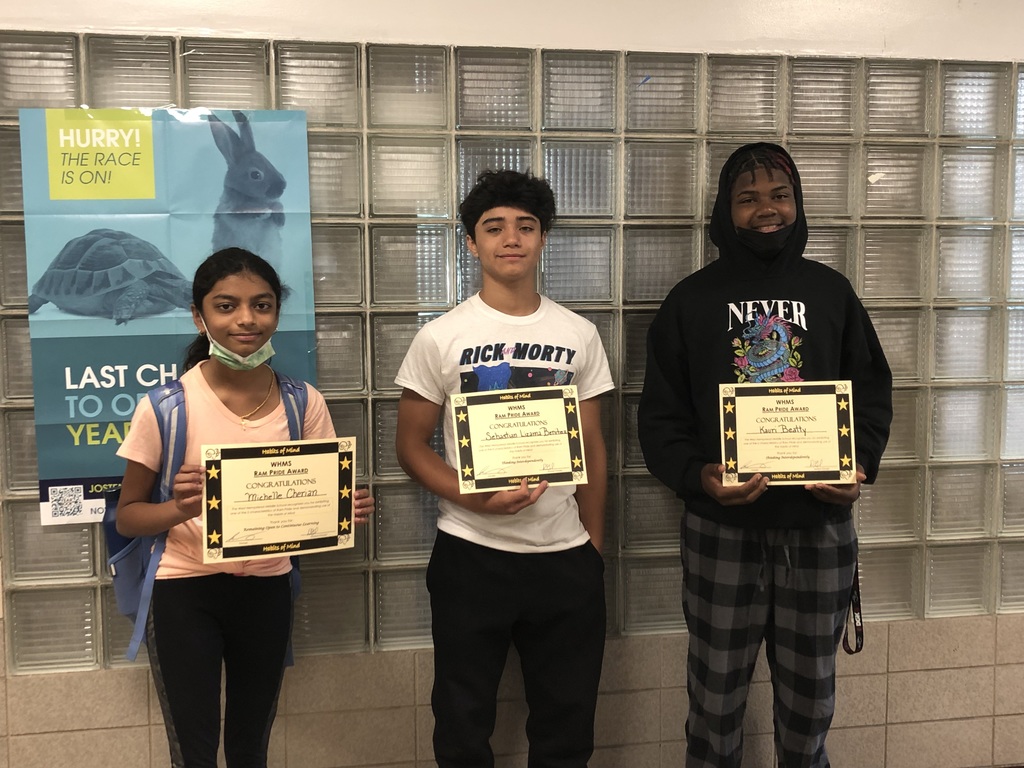 Last week our WHMS band, under the direction of new leader, Mr. Coleman, performed at NYSSMA Majors for the first time in school history. After breaking that barrier, they earned a "Silver" award at level 2. They came so far in such a short time thanks to PERSISTENCE! @smurrayLB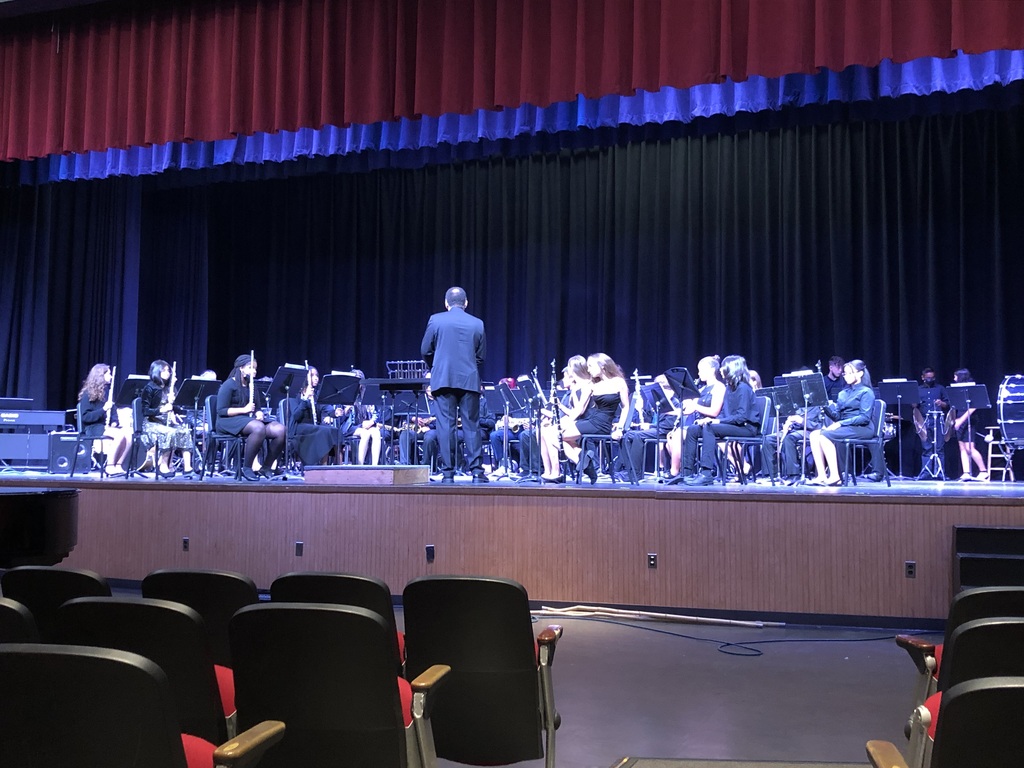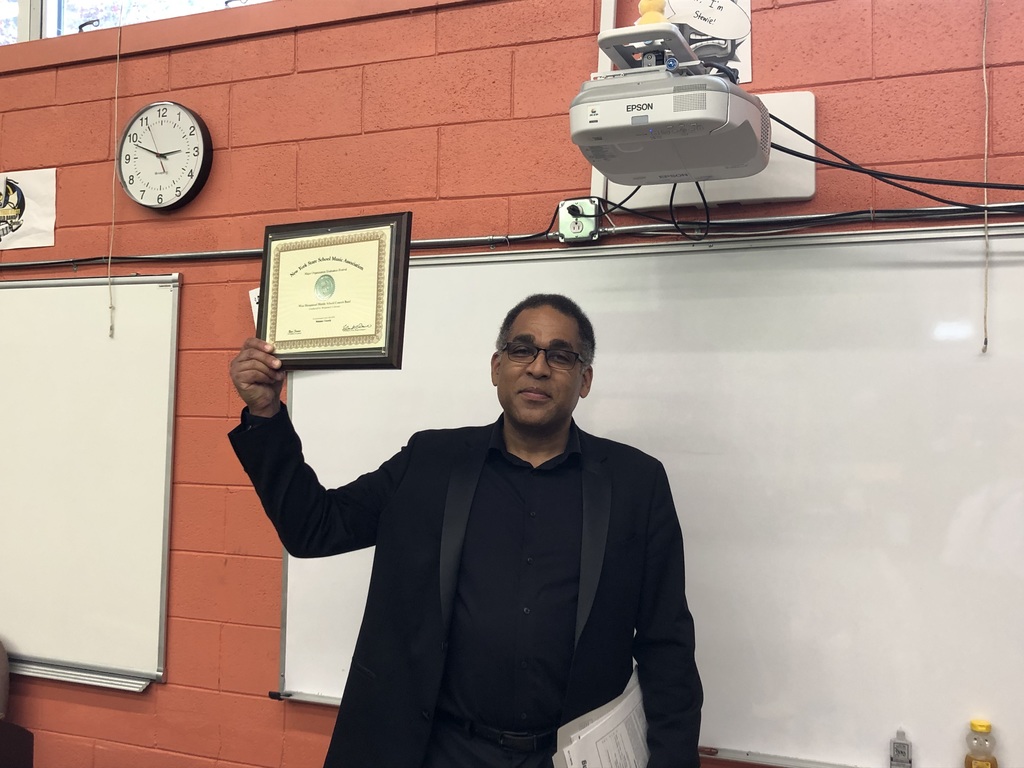 It was a banner week for #RamPride Awards last week! We had many students exhibiting many Habits of Mind. Let's close the year out strong WHMS! @whufsdrams #RamResolve @smurrayLB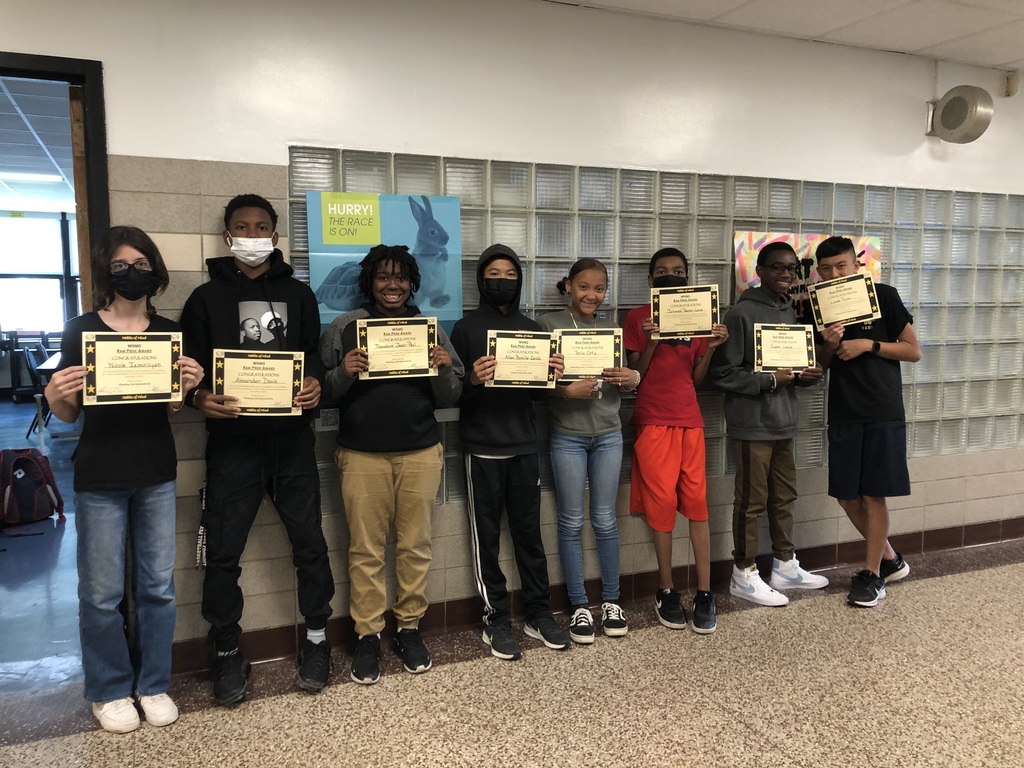 Good morning WHMS families. Our district partnered with the "Written Outloud" program offering a free summer program for students interested in creative writing. Watch their video at:
https://www.youtube.com/watch?v=NAdIbCvI61M&t=4s
for more information. @whufsdrams @smurrayLB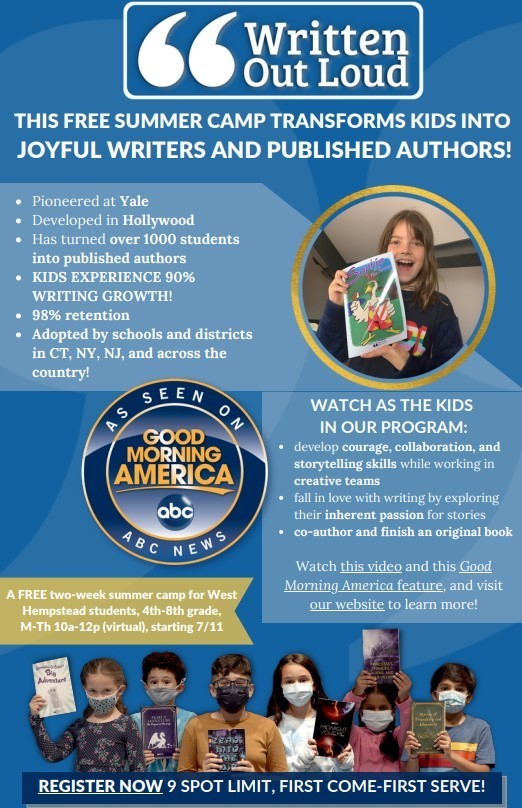 Good morning WHMS. Please mark your calendars. In anticipation of the upcoming budget re-vote on June 21st, the BOE will hold meetings on 5/31, 6/7, & 6/14 to discuss & adopt the budget. Please join us in the HS VCR or online & have your questions answered. @whufsdrams @smurrayLB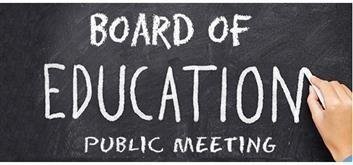 WHMS had a special visitor early this morning! We may be the Rams, but this duck made its way from Halls Pond to our front door for a breakfast nibble. A beautiful bit of nature to start our day. @whufsdrams @smurrayLB #RamResolve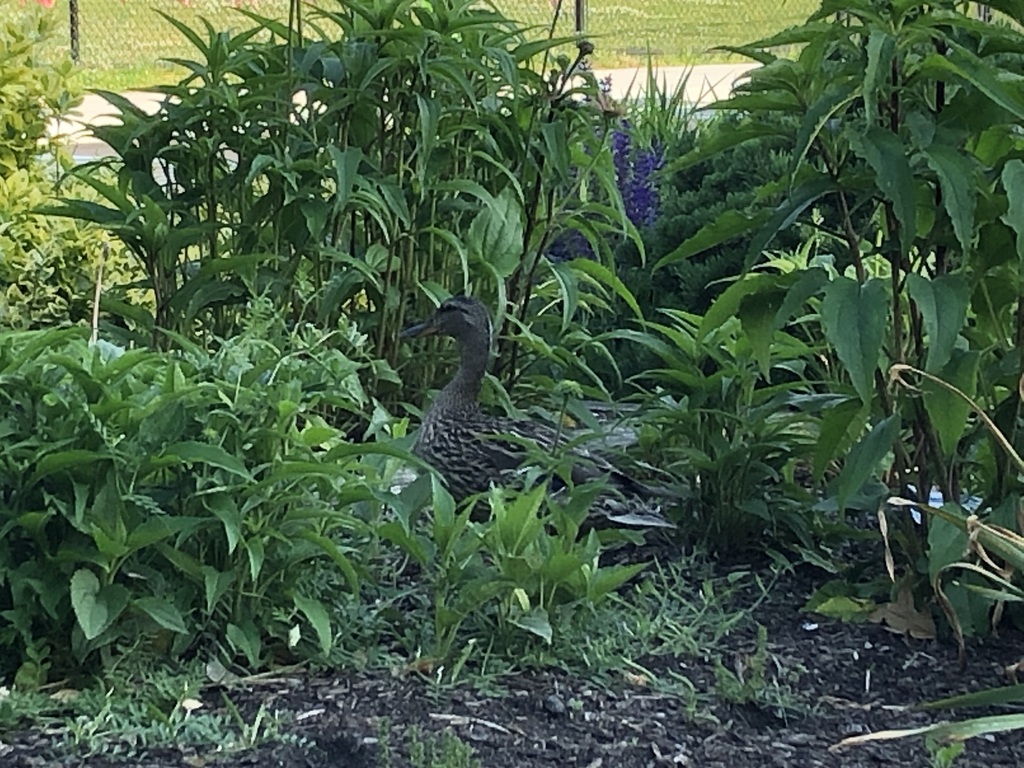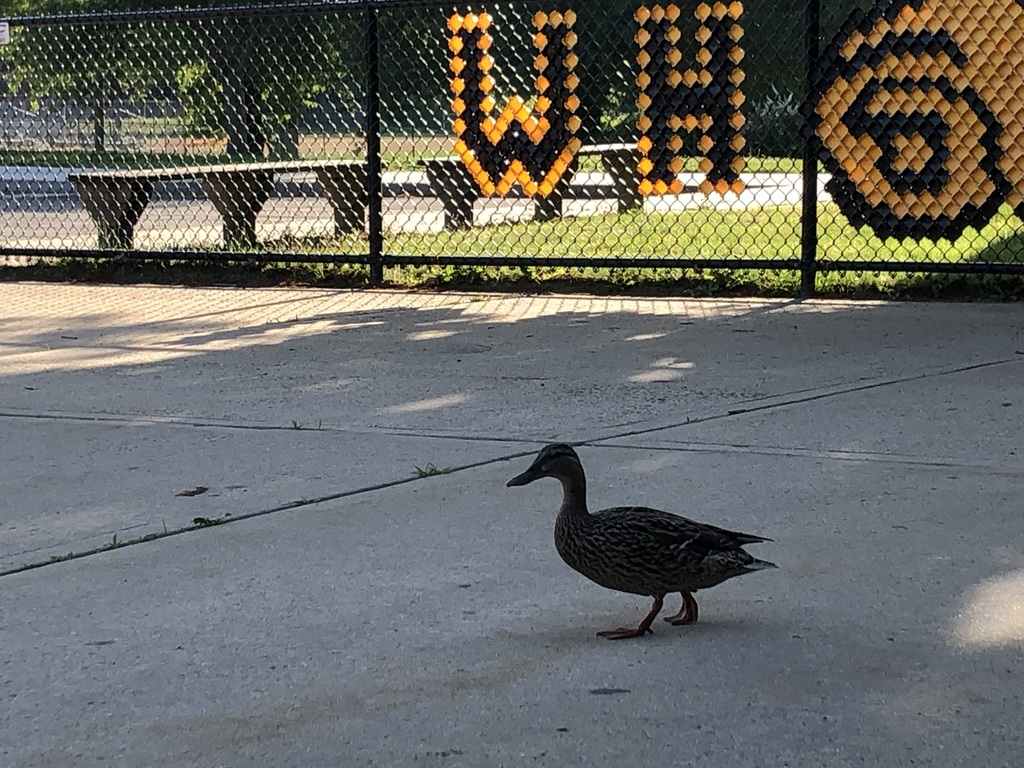 congratulations to the middle school softball team. The softball team won its 5th straight game yesterday defeating Lawrence Middle School by the score of 20-9. The girls showed great patience at the plate and had big at bats led by Joy Reynoso's RBI double. Great pitching from Valerie Schreck and solid defense helped seal the win. It was a great team win.

Our National Junior Honor Society inductees take the oath of membership under the guidance of Ms. Parker last night. It was an evening filled with #RamPride for the academic and citizenship achievements of our 8th graders. Keep up the hard work! @whufsdrams #RamResolve @smurrayLB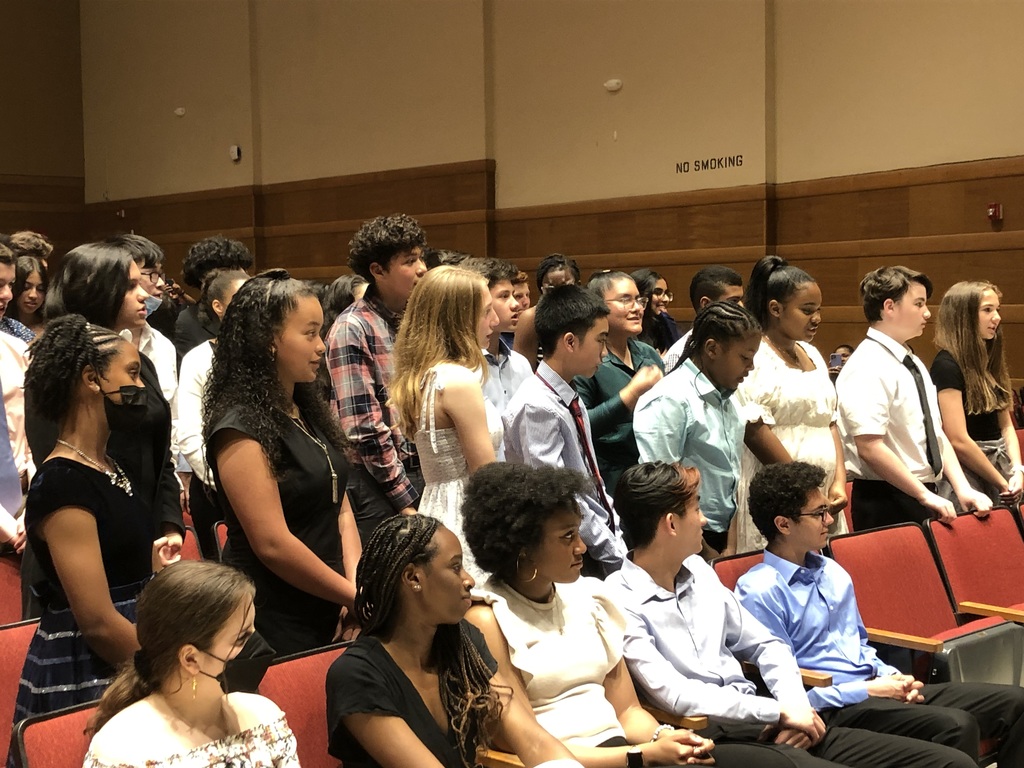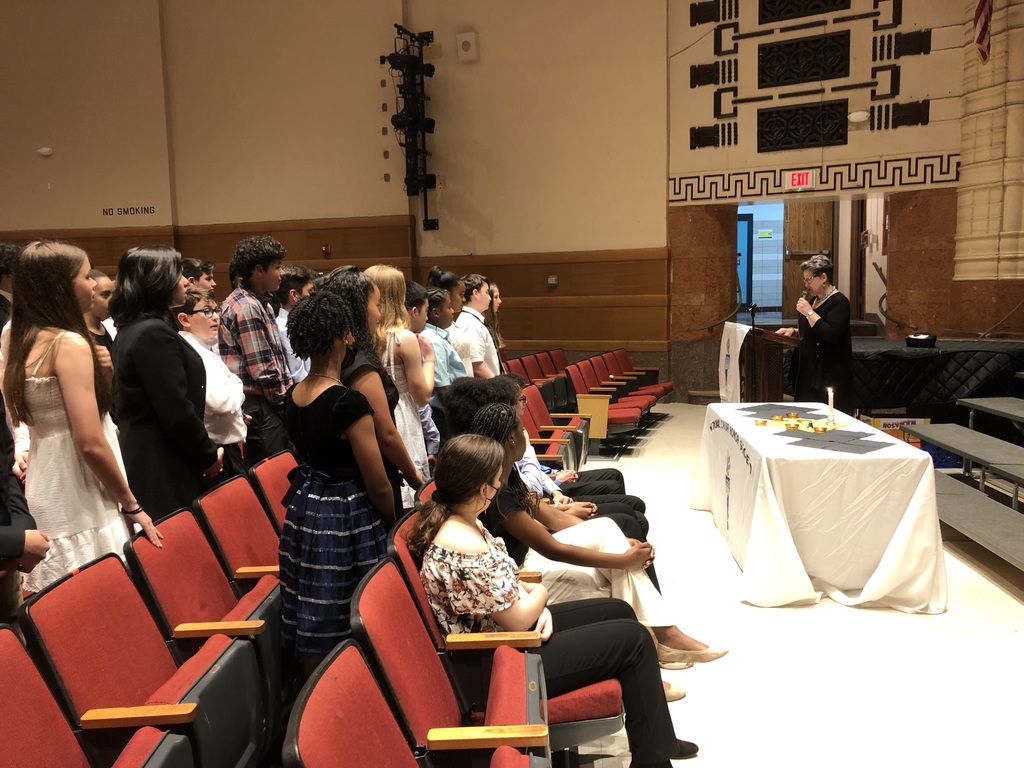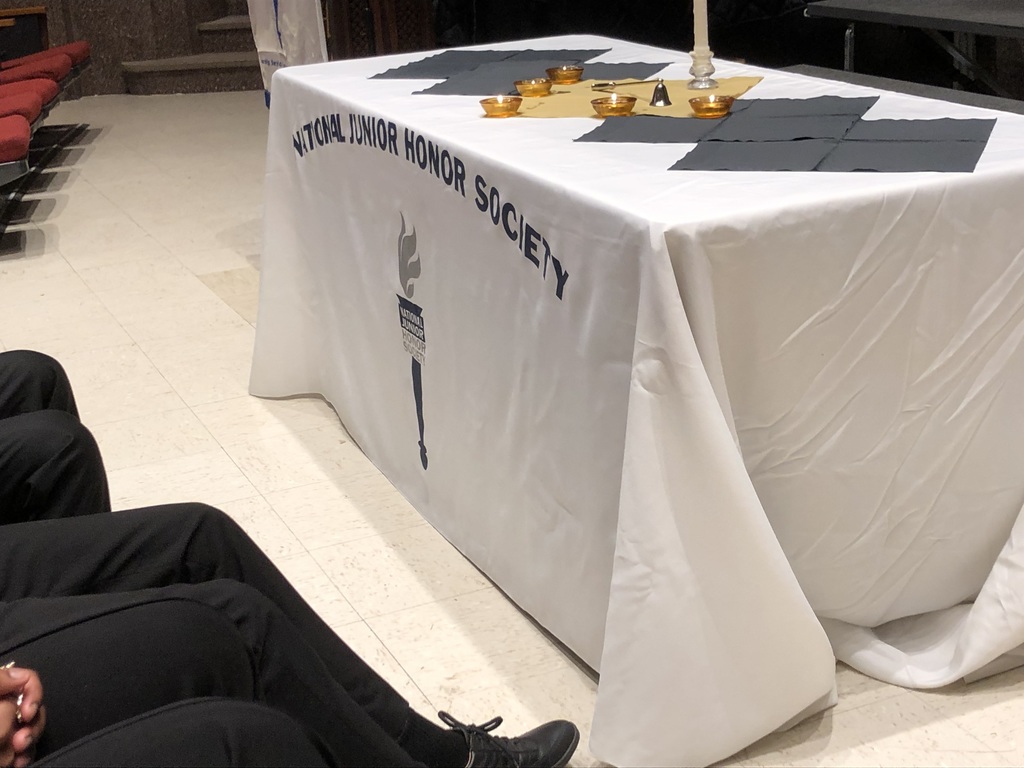 Happy #RamPride Award Day! Johanna and Tatiana (not pictured) Took a Responsible Risk and shared sonnets they wrote with the class as part of a Shakespeare author study in 8th grade English. So proud and grateful that they put themselves out there! @whufsdrams @smurrayLB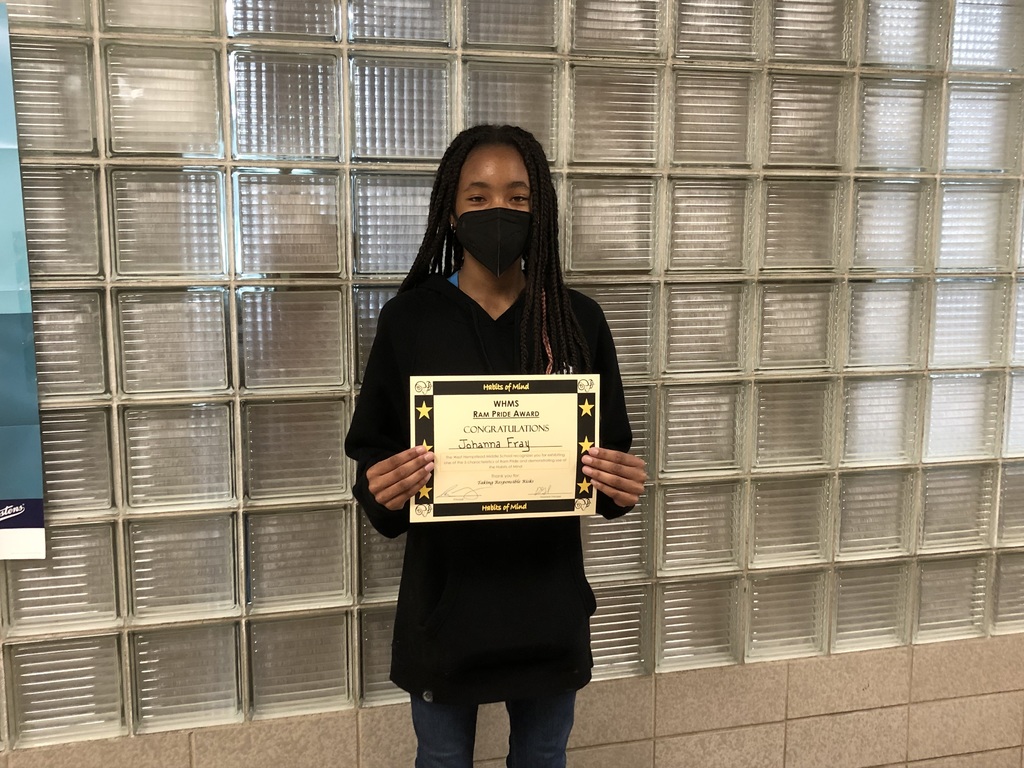 Today our students completed an empathy-building Word Cloud activity that we started a few weeks ago. Students took all the positive words peers shared about them & custom designed a Word Cloud that we will print & laminate as a keepsake. Be on the lookout! @whufsdrams @smurrayLB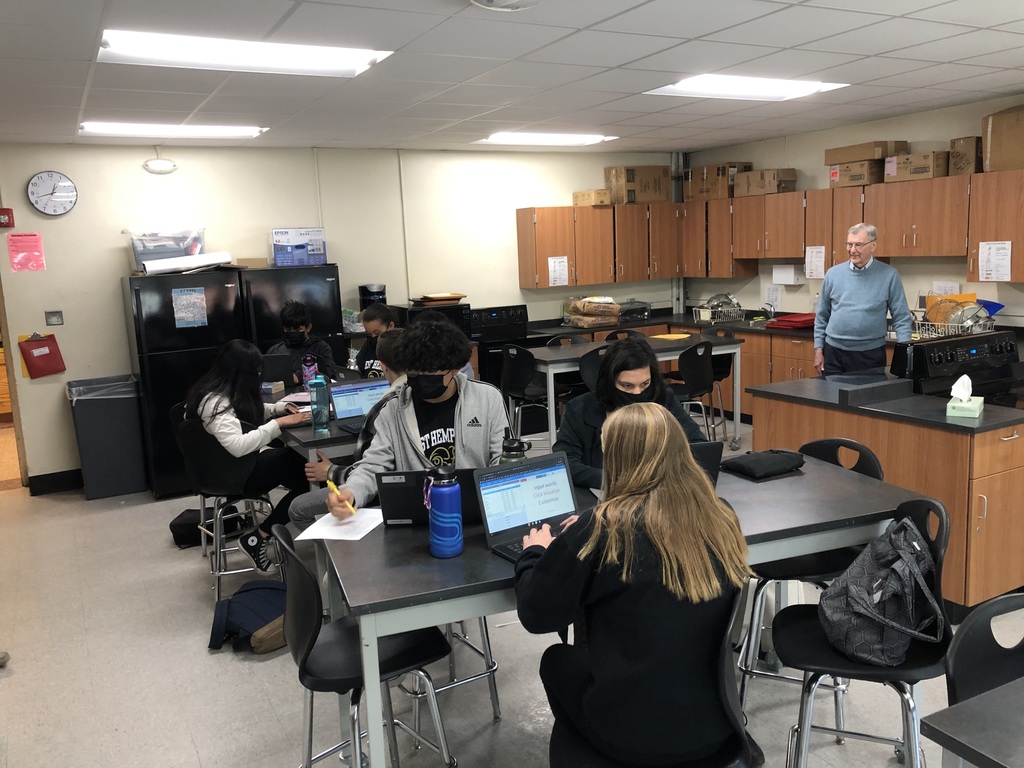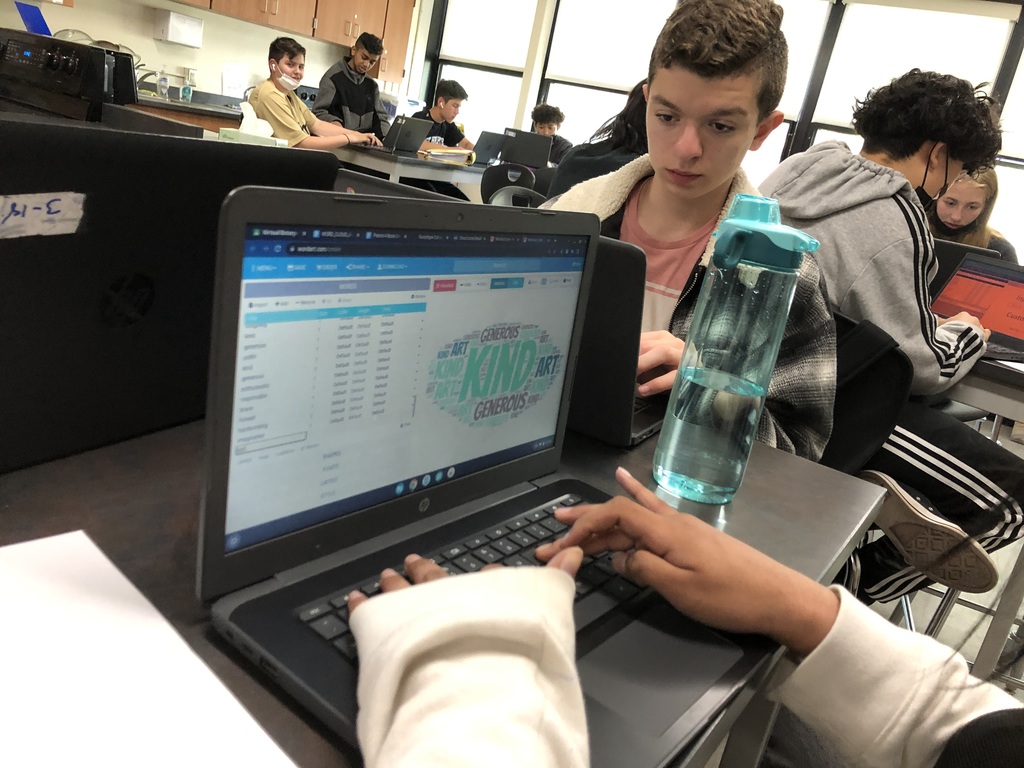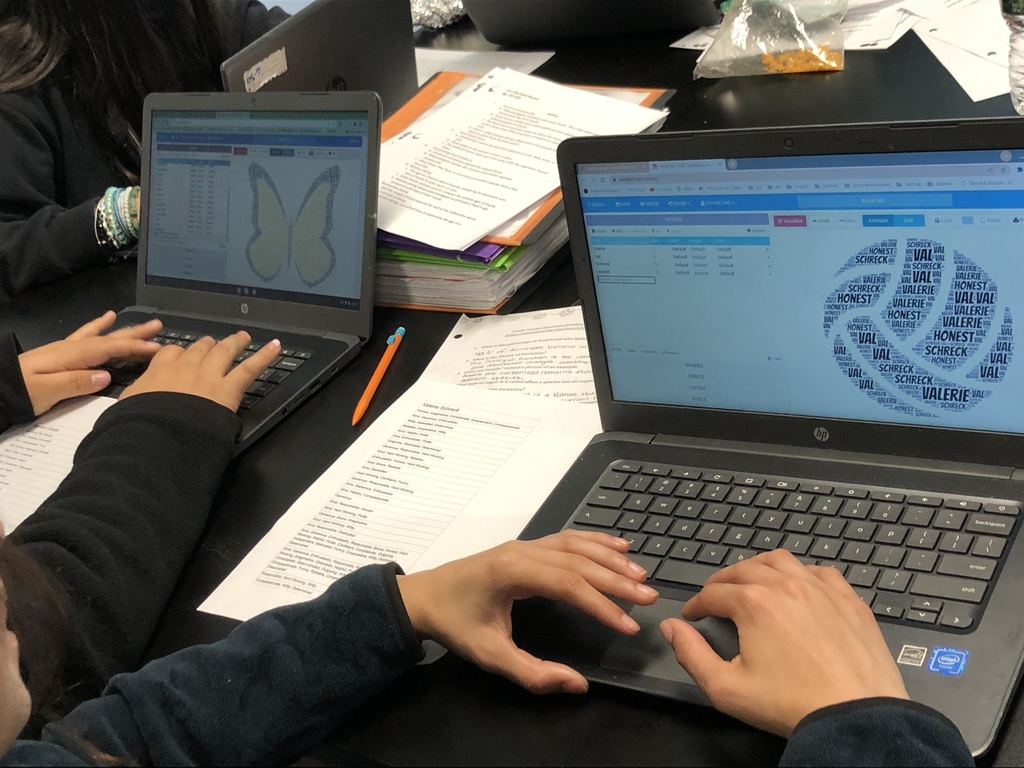 More pictures from our kidney dissection labs. Thanks to our WHHS science colleagues for taking a lead role in the dissections with our 8th graders. Teamwork! @whufsdrams #RamResolve @smurrayLB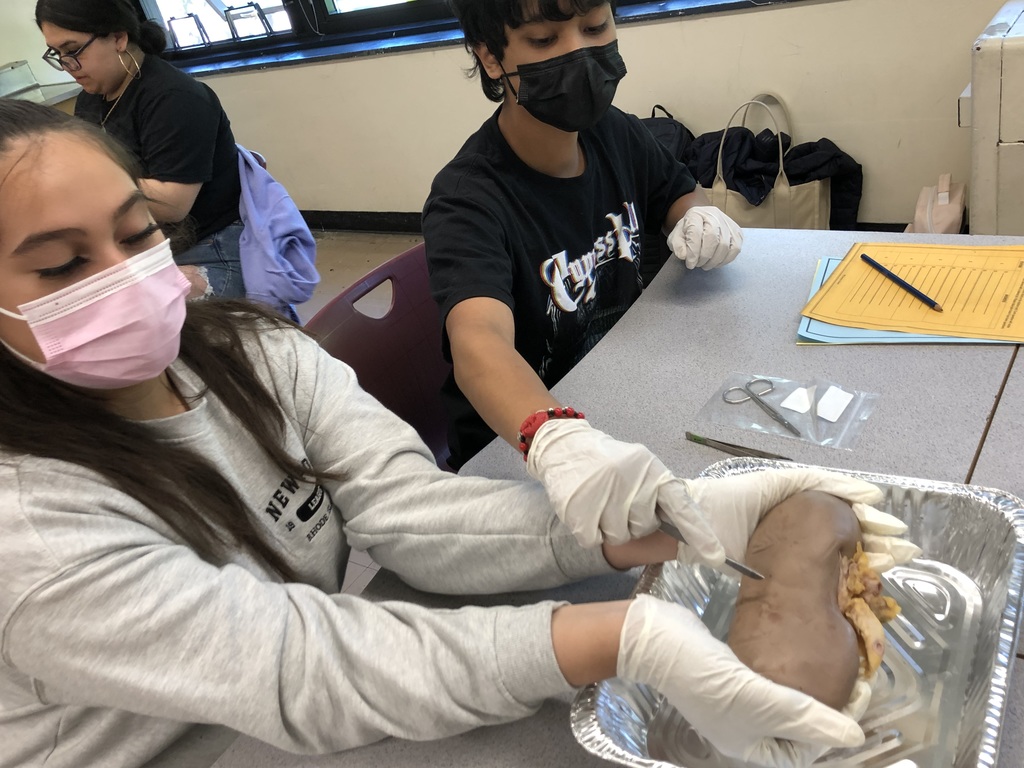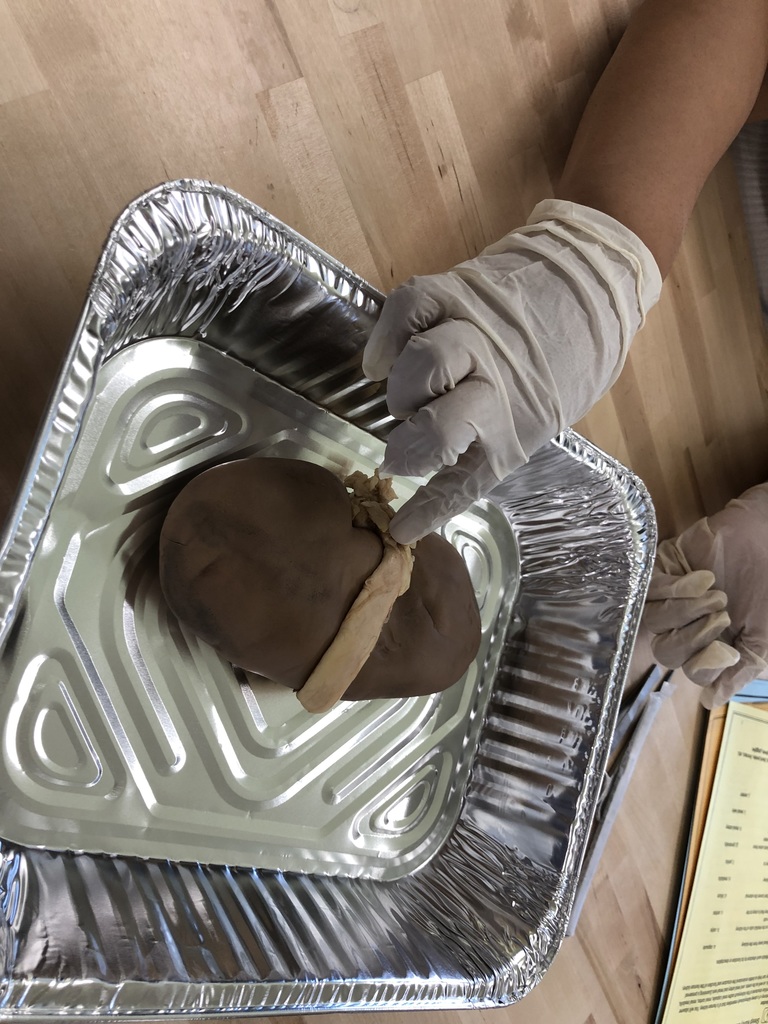 The dissections are underway! Students learning with a sheep kidney about the organs and excretory system after watching a live kidney transplant. This is medical school caliber work! @whufsdrams #RamResolve @smurrayLB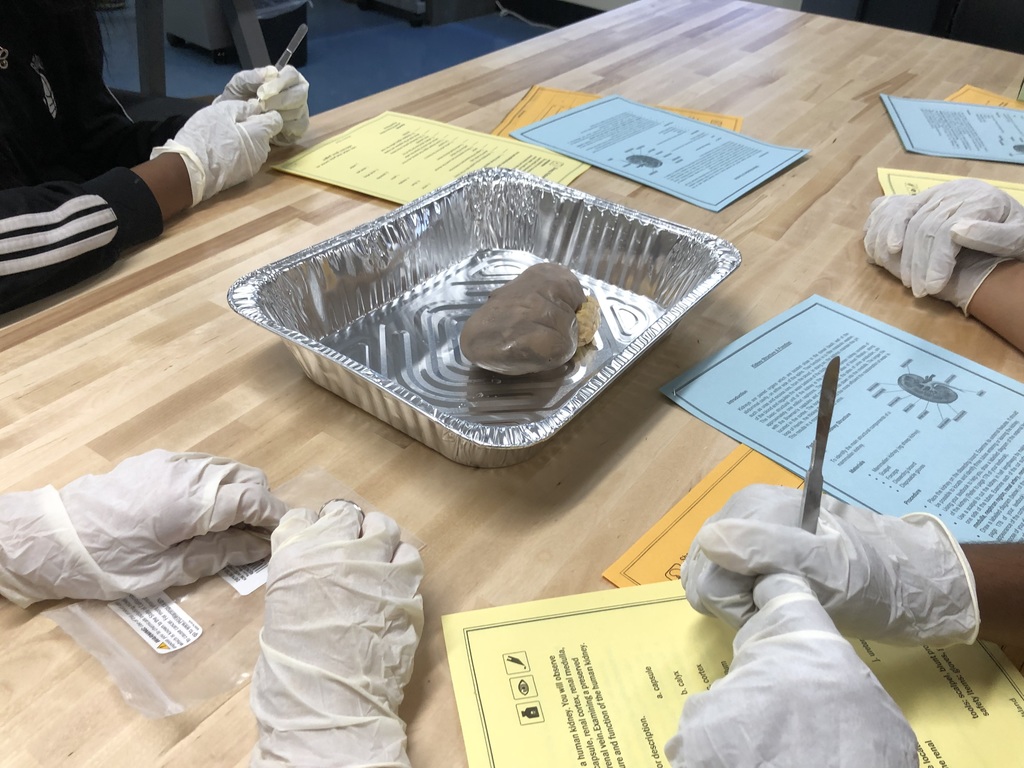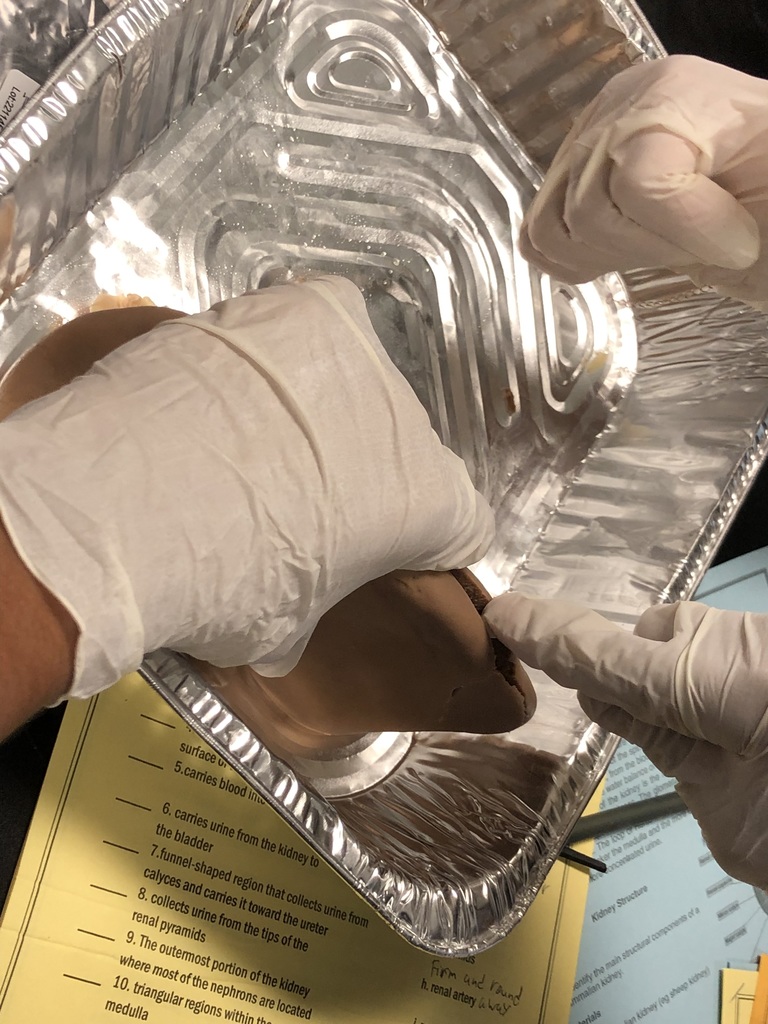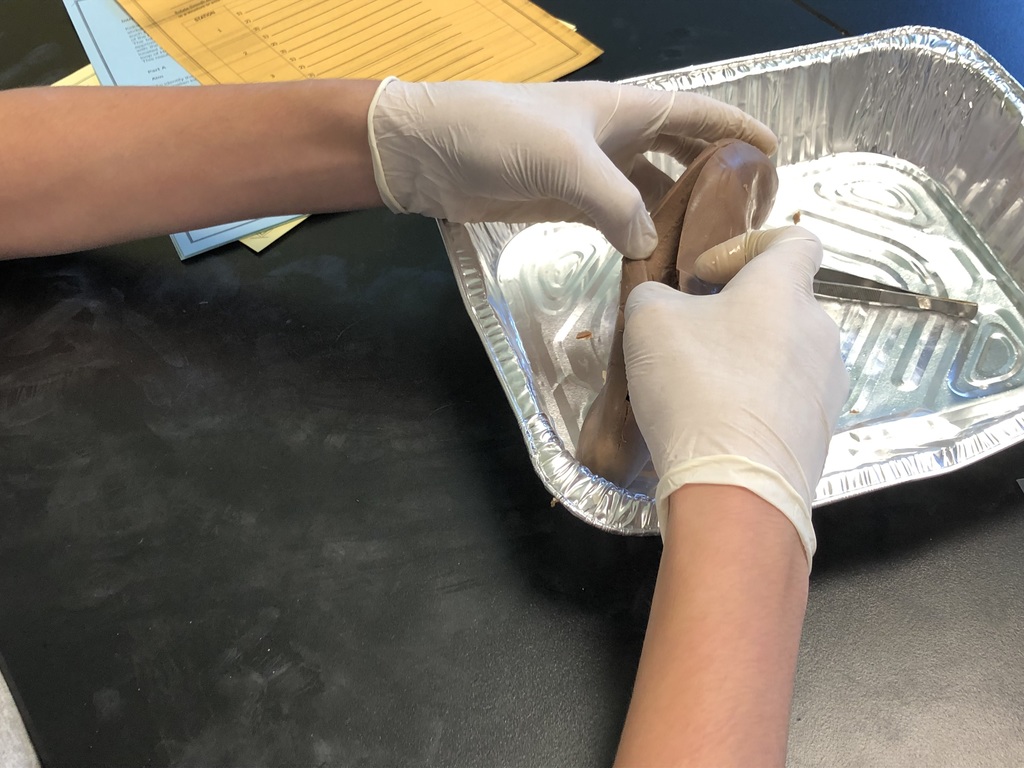 The program is underway and our hosts from Liberty Science Center are explaining how the next few hours will go. Surgery is set to begin in about 20 minutes. Exciting times in WH! @whufsdrams #RamResolve @smurrayLB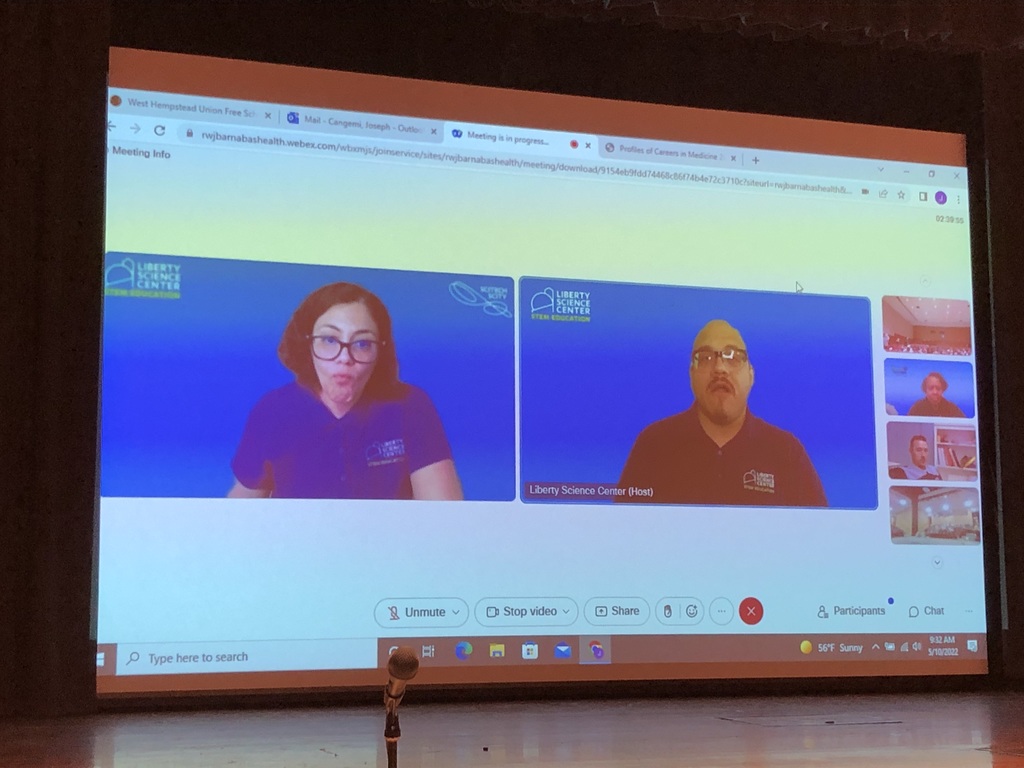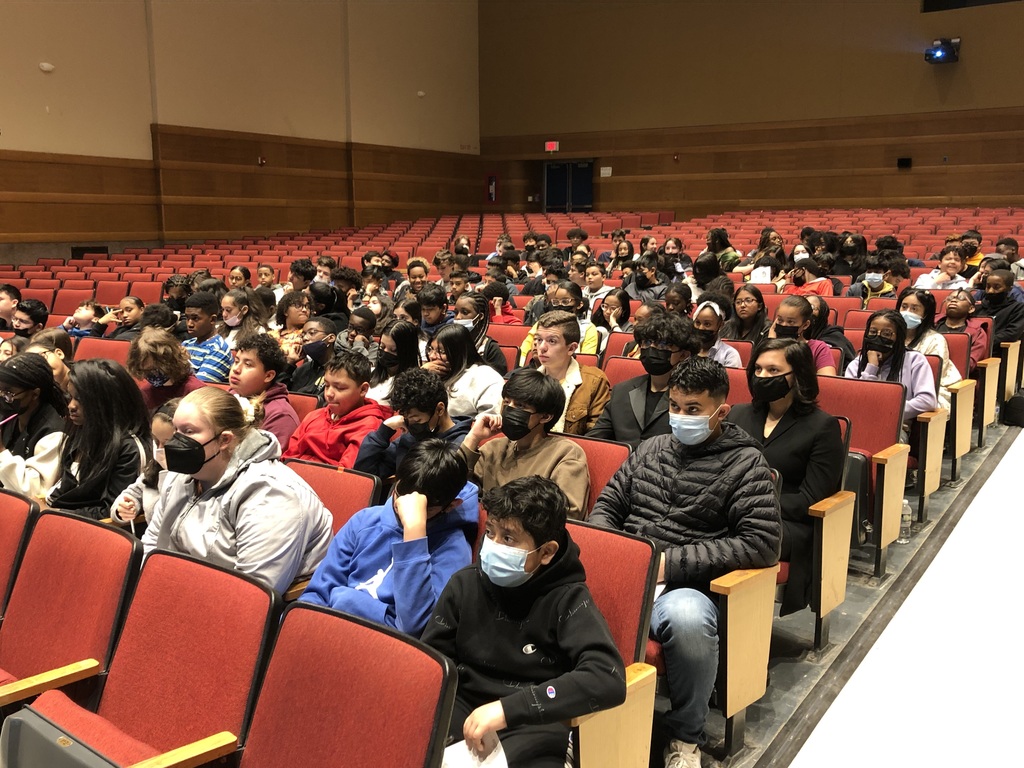 Our 8th graders getting ready to watch a live kidney transplant via the Liberty Science Center. Mr. Cangemi gives background info on the excretory system. Then they will dissect sheep kidneys in the afternoon. Exciting, hands-on learning! @whufsdrams #RamResolve @smurrayLB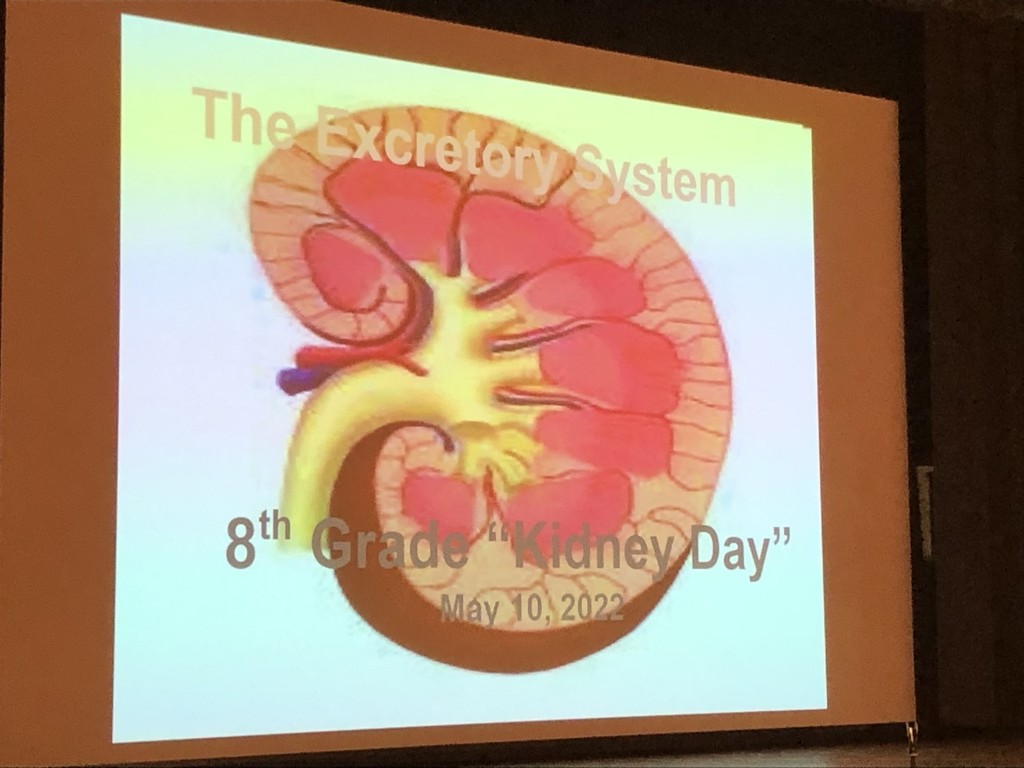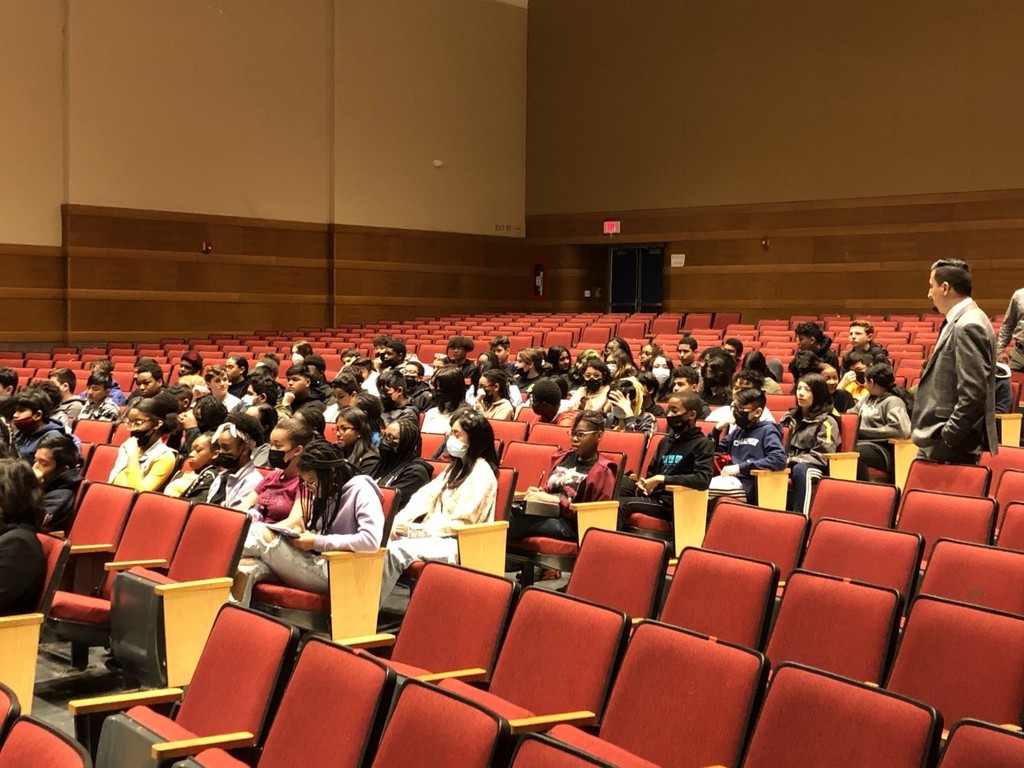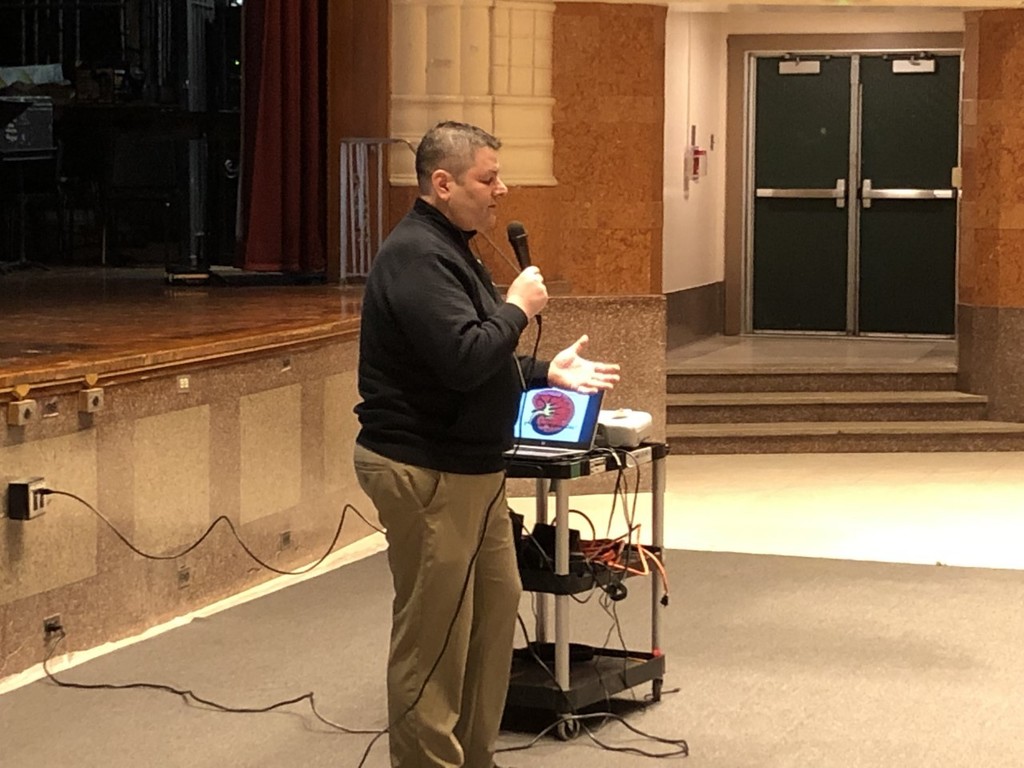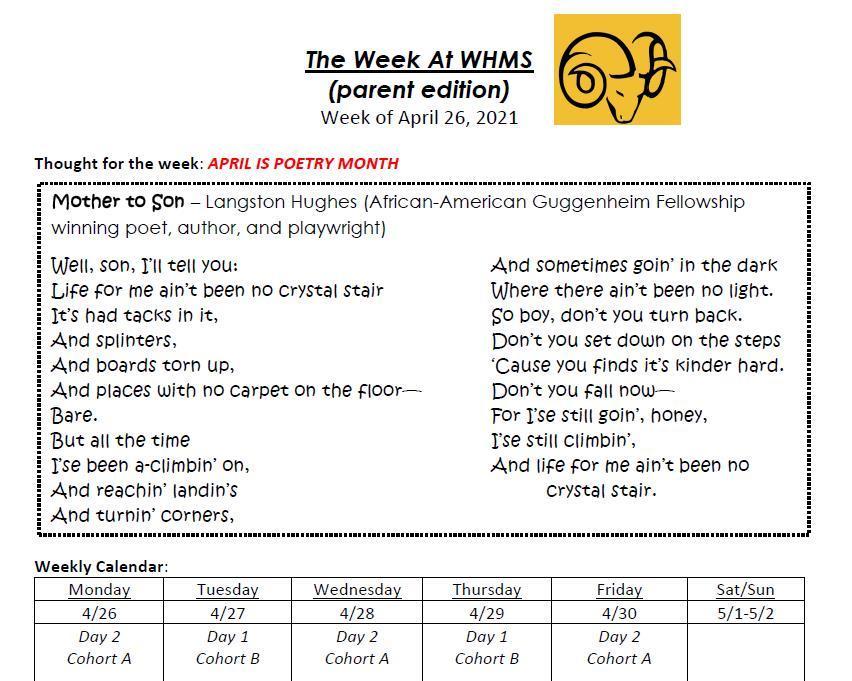 Happy Friday WHMS! Our #RamPride awards this week were for Thinking Interdependently, Finding Humor, and Remaining Open to Continuous Learning. Good work Kauri, Jayden, and Daniel. We're so proud of you! @whufsdrams #RamResolve @smurrayLB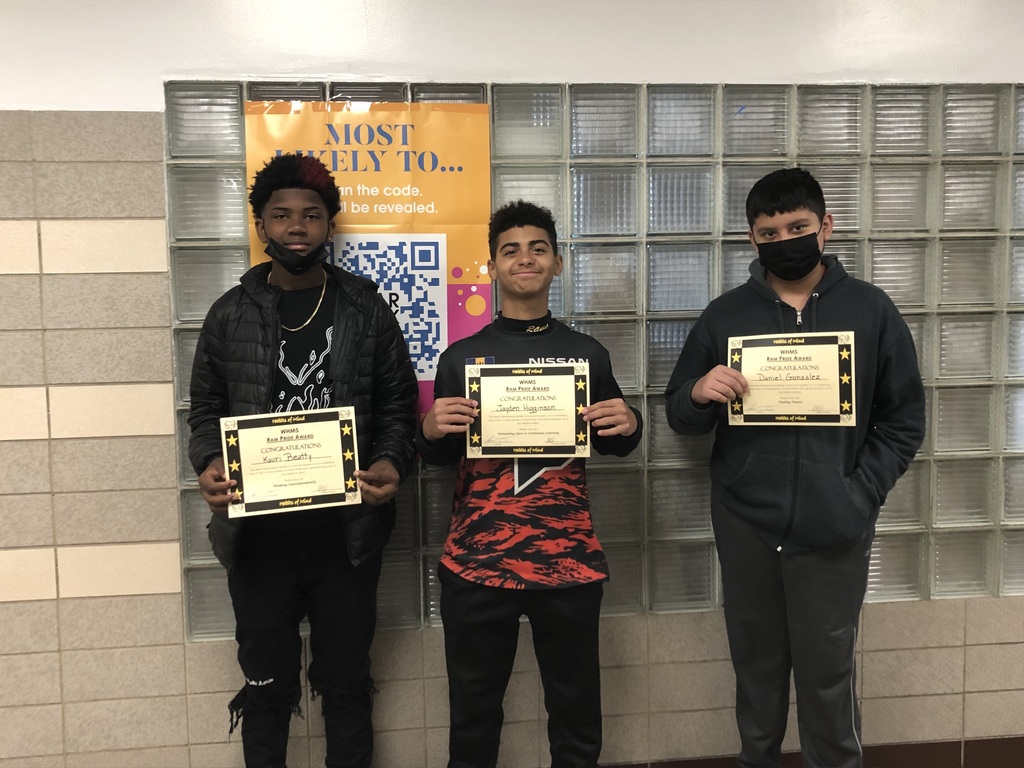 Big shout out to PTSA & all the families who donated to this morning's staff appreciation breakfast! The spread was amazing & so was the feeling in our hearts seeing all your efforts. And thank you for your trust and allowing us to teach your children! @whufsdrams @smurrayLB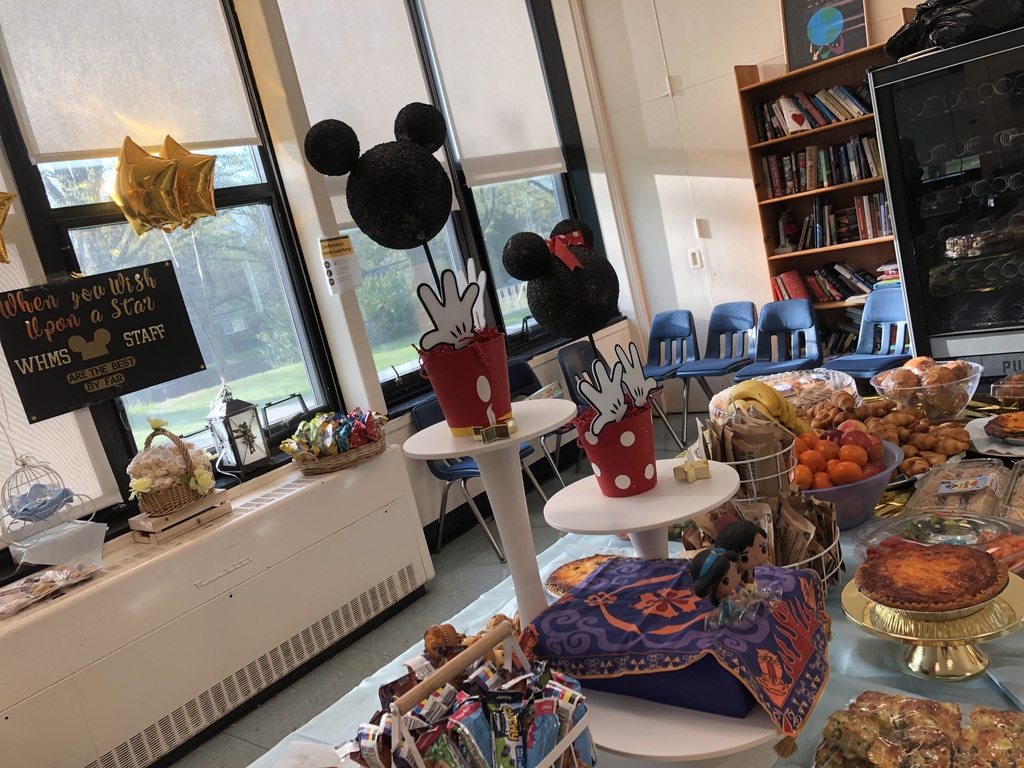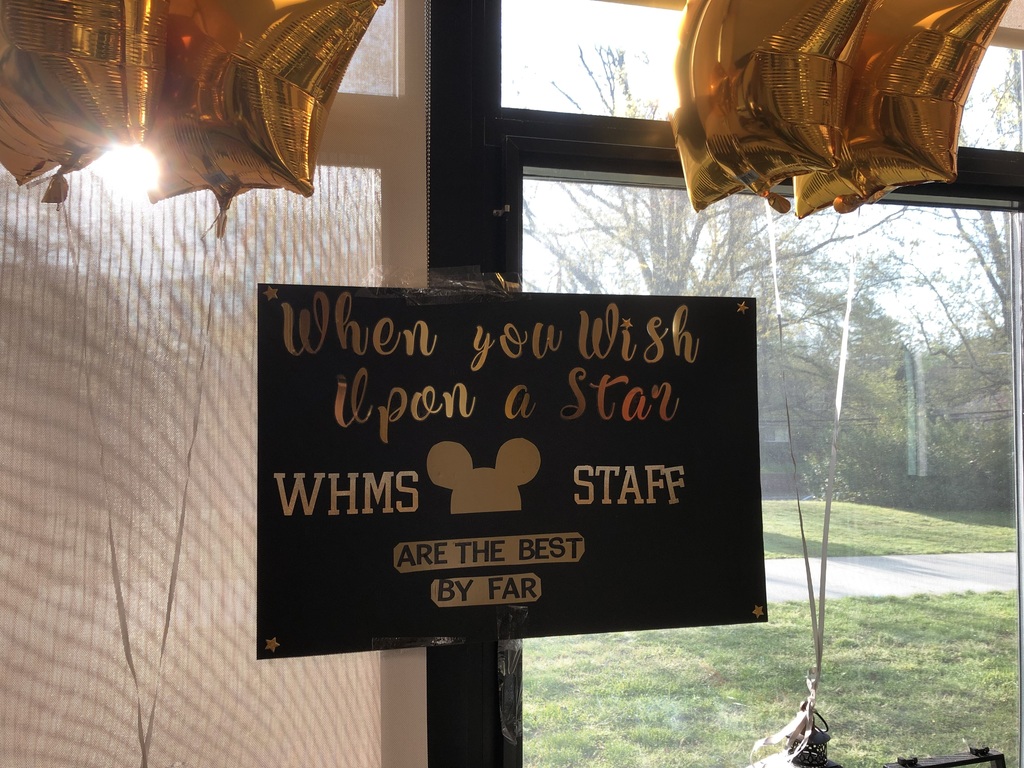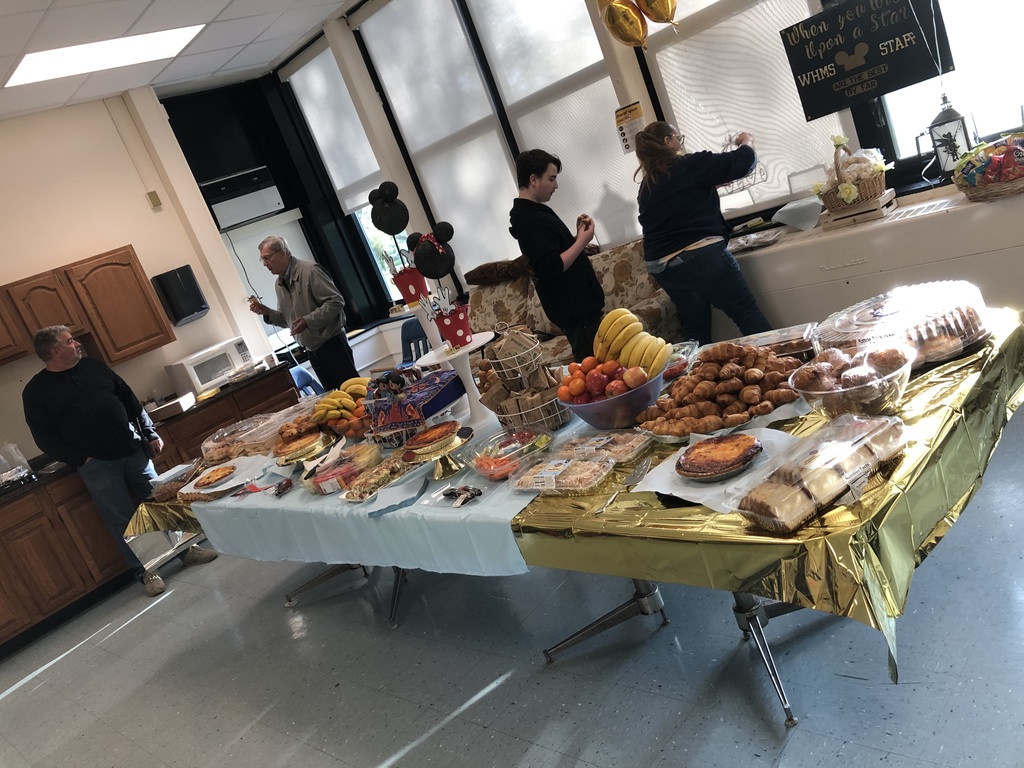 Our #RamPride awards are going strong! Students exhibited Thinking Interdependently and Taking Responsible Risks this week. Thank you Edwin, Alexis, and Joseff for contributing to making WHMS a better learning community. @whufsdrams #RamResolve @smurrayLB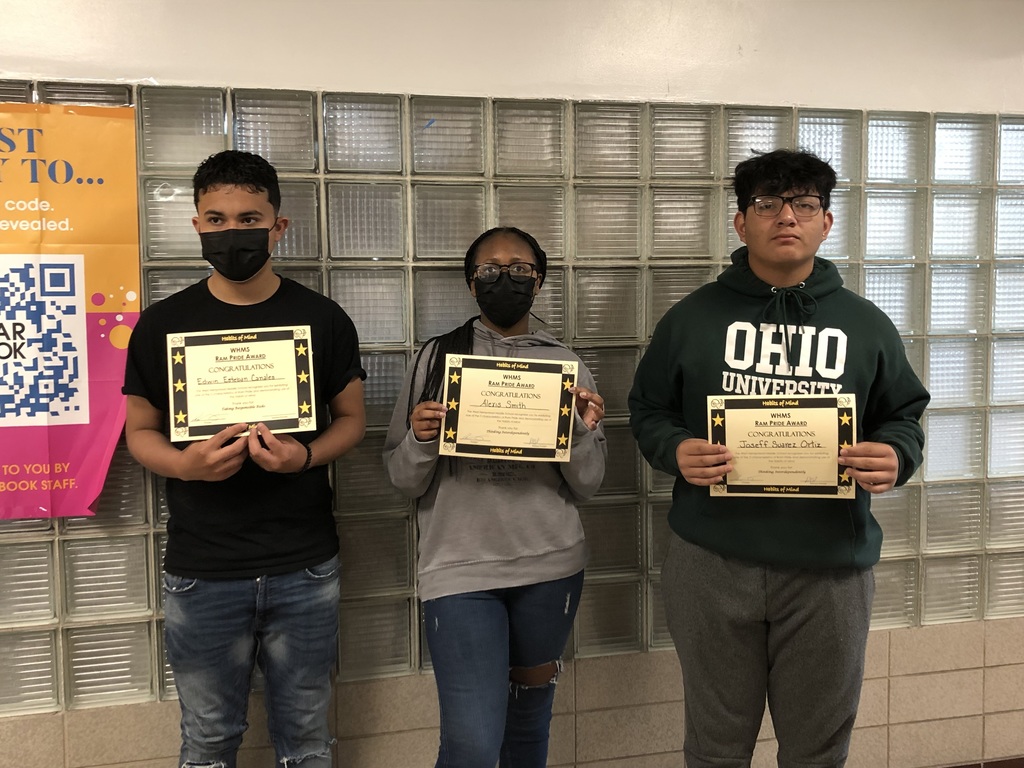 Good afternoon WHMS! Please go to:
https://www.whufsd.com/article/722387
to find out more about the Digital Equity Survey. Families who did not respond in the fall are asked to respond at this time. The survey closes on June 24th. Thank you! @whufsdrams #RamResolve @smurrayLB